Education
My grandfather, Ellis Augustus Oliver, was born to Andrew B. and Sarah Frances (Coil) Oliver on 5 September 1872 in Jennings Township, Van Wert County, Ohio. Both his parents and grandfather are buried in the cemetery of the immigrant Welsh village of Venedocia. The cemetery is near the venerable Welsh Calvinistic Methodist Church founded in 1848 with services solely in Welsh until 1885. The church is now known as Salem Presbyterian.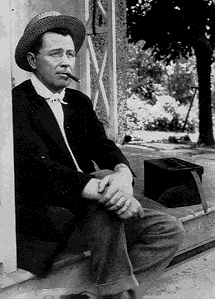 In Philadelphia he participated in official classes of the Drexel Institute of Art, Science and Industry conducted by Howard Pyle (1853-1911). E.A. Oliver was a member of Pyle's final course there that began in February 1899. Pyle had been teaching illustration at Drexel since 1894. "E. A. Oliver's name appears on the printed listings of Drexel's annual exhibitions of student work shown at the end of each school year. He did not, however, complete a certificate or a diploma" (Joy Collins, 1993).
The majority of Pyle's students followed him to found his "Brandywine School" in Wilmington, Delaware, but Grandfather did not. Perhaps, at 25, he had finally landed a job making pictures in Philadelphia's burgeoning advertising industry. The Philadelphia Ledger, The Saturday Evening Post, and the numerous monthlies and weeklies of the successful Curtis Publishing Co. clogged the wharves of the nations' prodigious port. The steady output of serial and popular, illustrated publications employed a sizeable community of talented artists.
Family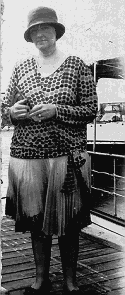 The Philadelphia City Directory lists his address in 1903 as 3214 Chestnut Street, but Ellis Oliver and his not-so-young bride, Kathryn Marie Gaughn (1879-1971), occupied a few years later the brand-new three-story brownstone at 3311 Walnut Street. Her sister, Marie (Mamie) still lived at home, around the corner, on 33rd St. Her other sister, Elizabeth, married a McKeone, mill owner. After the birth of the Olivers' first son, Henry Ellis, Grandmother traveled to Ohio to meet her somewhat intimidating, non-Catholic mother-in-law.
Kathryn continued to live on Walnut Street until the expansion of the University of Pennsylvania in the 1960's forced her at 83 to plan for the destruction of the house she had managed for almost sixty years. The ancestral property now partially supports the southeast corner of Eero Saarinen's fortress-like Hill College House -- Penn's largest dormitory, designed shortly before the Finnish architect's death in 1961.
Employment
Grandfather provided for his young family through his work as a commercial artist for, among other prestigious firms, Ketterlinus Lithographic Mfg. Co. (founded 1842). During his career he contracted with some of Philadelphia's highly successful advertising firms. Drawing on his rural Ohio experience, he produced convincing images of "contented cows" for advertisements of canned Carnation® evaporated milk.
Although eventual steady work and resulting security allowed E.A. Oliver to spend most of the Great Depression in retirement, the sad memory lingered for the young parents of a child lost to the awesome pandemic accelerated by Philadelphia's popular mass Liberty Bond promotions. "Spanish Influenza" swept the world, America, and Philadelphia. Perhaps that singular loss, before Armistice, distracted from the senseless slaughter in Europe that ended definitively, some suggest, only on 3 October 1990.
Three boys and a girl survived to adulthood: Henry Ellis, Andrew Breese, Frances, and John Herbert ("Herb"), my father. My father long remembered the catechism and Spanish he learned at West Philadelphia Catholic High School for Boys, and his two oldest sons are proud "Burr" alumni of that same De La Salle Christian Brothers' school, then established at 49th and Chestnut Streets, not far from its present location. John Herbert declined his father's offer to support matriculation at the University of Pennsylvania. His sister, Frances, attended West Philadelphia High School with Jeanette MacDonald (1903/07?-1965).
Friends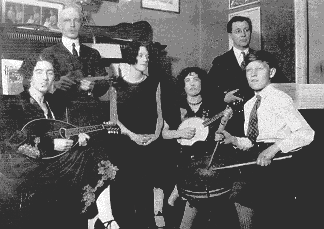 Music and art were integral elements of family life on Walnut Street. On Tuesday evenings a group of musicians met there regularly. At a very early age, my dad, John Herbert (1911-1985), took his usual place at the drums. As boys, my older brother, my younger brothers and I took our own turns many years later at the same piano playing and singing for Grandmother a haunting Irish lyric beloved by two previous generations, M.W. Balfe's "Marble Halls." My Aunt Frances (d. 1947) had, no doubt, acquired the sheet music for she was an accomplished pianist as well as an artist. If your computer handles midi files, listen to "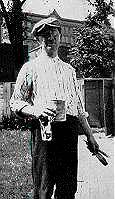 her favorite song" (.mid, 6.9K, 02:16 min.)
Ellis A. Oliver was a member of the Philadelphia Sketch Club for men for six years. The Club, a Philadelphia institution in center city at 235 South Camac Street, is run democratically "by the artists themselves." It serves as a studio and meeting-place for artists, now of both sexes, and their life models. The self-portrait at the head of this article resembles in size and demeanor the 44 portraits of early members painted by Thomas P. Anschutz (1851-1912) that decorate the upper walls of the library, a public, ground-floor room of the Sketch Club that opens onto its well-tended garden at the back of the building.
The Sketch Club was founded in 1860, before the Civil War, by disaffected designers and illustrators unwelcome, at the time, by the Pennsylvania Academy of the Fine Arts. Many members, however, including Anschutz, became professionally engaged with PAFA.
More characteristically, Grandfather also belonged to the Scumblers, a highly informal group of a dozen or so artists that used an abandoned barn, known among them as the "Shack," that still stands at Edison, PA, near Doylestown in Bucks County. Some of the Scumblers were also members of the Philadelphia Sketch Club: Charles Grafly, 1913-1929; W.A. Hofstetter, 1906-1918; E.H. Clevenger, 1912-1923; J.C. Worthington, 1893-1895.
The Scumblers no doubt also visited Fairmount Park, Chester, other counties, and New Jersey on sketching parties "where the large pine forests and hidden lakes of the somber-tinted cedar water still remain rich in romance" (Hofstetter).
EAO. "In the Shadow," [
R.R. bridge
, north of Ridge Ave., over Wissahickon Creek, Phila.] watercolor, PAFA entry, 1918.

Ellis A. Oliver (1872-1937):
Three Pastels
(APOW: "the most permanent of all the mediums in existence")
Thirteen Watercolors
Undoubtedly, after a song, the most evanescant. RO.
JavaScript Slide Show
December 1994; family photographs and new links added 22 March 1996; text substantially expanded on 17 May 1998.
Richard Oliver OSB
Box 2015
Saint John's Abbey
Collegeville, MN 56321-2015

Comments, questions, or suggestions? Write to me.



Rev. 2 Jan. 2013 / © Copyright 1994-2016 by Richard Oliver OSB /