The Scumblers and their Shack
at Edison in Bucks County, Pennsylvania
by Richard Oliver OSB and Chuck Rudy
Introduction
In the first two decades of the 20th century, the Scumblers* were a group of Pennsylvania artists who regularly spent part of their summers together at the "Shack" in Edison, Pennsylvania, near Doylestown in scenic and historic Bucks County. The Shack still stands, now on County property near the Neshaminy Creek, but the area is subject to seasonal flooding. Surviving photographs of the Scumblers at the Shack date from 1902 to 1920. Compare a map of the environs from 1888 with an aerial photograph taken in 1999 and Google Maps.
A trolley ride on the Philadelphia Rapid Transit Company's northern extension, with a change at Willow Grove Park, made the trip to Edison in about 2 hours. 1897 saw the first of several trolley lines beginning operation that would connect Doylestown with Willow Grove, Newtown and Easton. "The first trolley car to arrive in Doylestown did so at 2:45 p.m. on May 24, 1898" (Images). The trolley service along Easton Road remained in operation until 1931 when it was replaced by buses. The tracks were left in place until the steel was salvaged to help win World War II.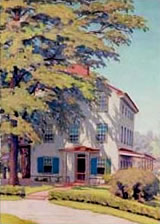 For over a decade Ellis and Kathryn Oliver escaped the heat and humidity of Philadelphia in the summer by renting a house for the family and their guests. The three-storey house is also still in existence, not far from the present-day remains of the Shack in Bridgepoint Park.
Some Scumblers who visited Edison for only a week or less no doubt stayed at the Turk's Head Tavern, demolished when US 611 was extended as a four-lane highway. The Scumblers had convenient lodging, easy access from Philadelphia, a place to enjoy a good meal and blow the froth off a couple brews -- all amid great scenery to paint.
Outside of the summer, the Scumblers met in Philadelphia, always on a Thursday night. "As time wore on and more of the Scumblers married and started families the photos begin to look more like friends and family having picnics than artists pursuing their art" (Ann Bardsley Key).
Edison Village
Edison was once known as "Bridgepoint" for the seven-arched stone bridge that was built across the Neshaminy in 1821, replacing the one erected before 1795. Even earlier the location was the site of Richard Saunder's ferry across the Neshaminy, documented before 1722 (Bean's History of Montgomery County, LXXV:1096, 1884).
The village officially changed its name to Edison with the opening of a new post office in 1880. The name was chosen in honor of Thomas Alva Edison, who invented the light bulb the previous year. A Power House for the trolley system was located not far from the bridge in Frog Hollow (Janyszeski).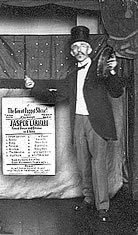 "During the early 1800's, 'Bridgepoint' was a thriving manufacturing center along the original road from Philadelphia to Easton, now called Route 611. The Willow Grove Trolley also followed this route, bringing businessmen and visitors alike to the Doylestown area. Largely through the efforts of the enterprising Dr. Samuel Moore, the village operated a woolen factory and saw mill, refurbished old grist and oil mills, and established a school" (A Brief History of Time in Doylestown Township). He served as Fifth Director of the United States Mint from July 1824 to July 1835 and authored its Rules and Regulations.
Moore's school was located in Bridge Point from 1818 to 1882. At the time of the Scumblers, however, it housed the studio of Joseph George Willman (at left); today the building serves as a private residence although a wall painting of a classroom by Willman recalls its former function.
Members
Some members of the Scumblers, that numbered about twelve, have been identified with certainty:
Winfield Scott Bardsley (1867-1949), pictured at right, a photo engraver by profession who painted for his own pleasure
Clive Clevenger, "Uncle Clive," artist, landlord of the Shack, godfather to W.S. Bardsley's son
Louis R. Dougherty (1876-1948), artist
William A. Hofstetter (1883-1970), artist and teacher
Ellis Augustus Oliver (1872-1937), commercial artist
Clevenger's work "seemed to be in the field of decorative arts: painted furniture, murals, molding and trim, free standing screens, etc." (Ann Bardsley Key, email, 18 April 2004).
Others connected with Edison or the Scumblers:
- Winifred Leonard Bardsley, m. Winfield in 1909, teacher at Mt. Vernon School
- C. R. Grafly Dougherty, son, b. 1915, U Penn 1937, WPA
- Louis Dougherty, Jr., son
- Charles Allan Grafly (1862-1929), sculptor, friend of Dougherty
- Dr. Samuel Moore, physician and Edison property owner, a member of Congress and director of the US Mint
- John Ransey Conner (1869-1952) entitled one of his works "Edison PA," a depiction of the Shack and adjacent buildings.
- Irene K. Reiser, professional photographer, cousin to Winfield Bardsley
- Jos. G[eorge] Willman, correspondent with Dougherty and Oliver, artist's studio in Edison
- E. H. Worthington, local property owner who rented a house to the Oliver Family
Picture Galleries: then and now

The Gallery contains both photographs and art work. It is best viewed with Internet Explorer.
Chuck Rudy lives near the Shack and has created an extensive slide show of then and now images of "Edison / Bridge Point PA."

"The Scumblers on the Neshaminy," oil on canvas, signed Louis R. Dougherty, ca. 1920, photo by Katharine Csubak.
Contributors
Contemporary friends and relations of the Scumblers contributing information:
Katharine Dougherty Csubak, granddaughter
George Bardsley, physicist, grandson
Ann Bardsley Key, granddaughter
Richard Oliver OSB, grandson
Chuck Rudy, Edison resident, photographer and ardent history buff
Bibliography:
Clark, Kathleen Zingaro.

Bucks County. Arcadia Publishing, 2006. Farmers harnessed the land for centuries, followed by writers, artists, and innovators who weaved its charms into their work for the world. Bucks County features photographs from area historical societies and collectors that capture the spirit of the everyday life, as well as the extraordinary people and events, that helped shape one of the most distinctive places in America.

Davis, W. W. W. H.

"Doylestown Township, 1818," The History of Bucks County, Pennsylvania: from the discovery of the Delaware to the present time. Chapter 43, 1st ed. (Doylestown, 1876); II:13, 2d ed. rev. Chicago, 1905.

The Doylestown Historical Society.

Images of America: Doylestown by Ed Ludwig, Brooks McNamara and Betsy Strecker. Arcadia Publishing, 2000.

Falk, Peter Hastings, ed.

The Annual Exhibition Record of the Pennsylvania Academy of the Fine Arts, 3 vols. Madison, CT: Sound View Press, vol. I, 1988, vols. II and III, 1989. [index to works in the Annual Exhibitions from 1807 to 1968 with essays on the history of the exhibitions.]

Falk, Peter Hastings, ed.

Who Was Who in American Art. Sound View, 1985.

"L.R. Dougherty, Artist, Dies: Executed Portraits of 5 City Mayors" [obituary].

Philadelphia Evening Bulletin

(Wednesday, May 19, 1948, F4). The obituary states, "He was a member of The Scumblers, an artists' society."

Meyers, Alley, Joel Spivak.

Philadelphia Trolleys. Arcadia Publishing, 2003. Streetcar service arrived in Philadelphia in the 1850s, shortly after the consolidation of the city. By 1915, the electrification of the streetcar increased the number of routes in Philadelphia to a total of eighty-six.

Saunders, Drew C.

"William A. Hofstetter (1883-1970): Master of Sunlight and Shadow." Wayne, PA: Newman and Saunders Galleries, n.d. The pamphlet is based on conversations with Mary Hofstetter Baker and Elizabeth Hofstetter, daughters of the artist.
Web Resources:
The Area Guide Book.
"Bucks County Websites."

AskART.
"John Ransey Conner," "Louis R. Dougherty," "Charles Allan Grafly," "William Alfred Hofstetter," "Ellis Augustus Oliver."

Bucks County Fine Arts Gallery, Inc., Buckingham, PA.

"David's Photographic Tour of Bucks County, PA." "...on-line since December 21, 1997.... The tour currently contains almost 300 pictures."

Doylestown Township, PA.
A Brief History of Time in Doylestown Township.

Heritage Conservancy, Doylestown, PA.

Janyszeski, Nancy C. Benner.
Bucks County Pennsylvania. "This website was created as a guide to the history and genealogy of Bucks County Pennsylvania."

Michener Museum, James A., Doylestown, PA.
The Lenfest Exhibition of Pennsylvanian Impressionism, Putman/Smith Gallery.

Oliver, Richard.
"Ellis Augustus Oliver (1872-1937): Philadelphia artist," Website created 1995.

Philadelphia Architects and Builders.
"Bridgepoint School" served for a time as the studio for Joseph George Willman. It is part of the Bridgepoint Historic District also known as the Edison Historic District that was named in 1997 by State Act 175 of 1984 as revised. It consists of 15 locations with structures dating from 1800 to 1940.

Rudy, Chuck.
"Bucks County History." A Web photo album and slide show.
"Edison / Bridge Point, PA." A Web slide show of then and now images.

Sessinger, Lou.
"The Scumblers Captured Bucks County," The Intelligencer (Sunday, 6 June 2004).
Notes:
*Charlene Lavinia, a Bucks County art teacher, provided an enlightening definition: "A scumble is related to a glaze in that it is a film of color laid over another paint so that it modifies the original color but does not completely conceal it. ...Scumbles are usually characterized by a pearly opalescence or a soft smoky optical effect" (Painter's Guide to Studio Methods and Materials, by Reed Kay, Prentice-Hall, 1983). "Scumblers" are a variety of stiff bristle brushes that can be helpful to artists creating a scumble by "lightly scrubbing lighter layers of paint over darker areas." (E-mail, "Scumbling," 6 June 2004).
Brother Richard OSB | E.A. Oliver (1872-1937): Scumbler




Rev. 30 December 2008 / / © copyright 2008-2016 by Richard Oliver OSB / www.richoliver.us/eao/scumblers/