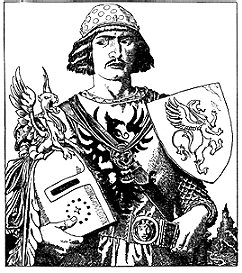 Howard Pyle (1853-1911)
by Abraham A. Davidson
© Copyright 1993, Grolier Electronic Publishing, Inc.
Howard Pyle, b. Wilmington, Del., Mar. 5, 1853, d. Nov. 9, 1911, was a noted American illustrator and author whose work is characterized by an imaginative and colorful realism and a passion for historical detail. He illustrated numerous historical and adventure stories for such periodicals as Harper's Weekly and St. Nicholas as well as his own books for children, including The Merry Adventures of Robin Hood (1883) and Otto of the Silver Hand (1888).
In his later years Pyle devoted most of his time to teaching such outstanding illustrators of the succeeding generation of the American Brandywine school as Maxfield Parrish, Frank E. Schoonover, Jessie Wilcox Smith and N. C. Wyeth.




My grandfather, Ellis Augustus Oliver, 1872-1937, was a member of Howard Pyle's last class at Drexel in Philadelphia before Pyle retreated permanently to Wilmington. Barry McWilliams and Batsy Bybell have cooperated to create a more extensive website devoted to Howard Pyle that includes ten of Pyle's own stories.
Bibliography:

Abbott, Charles D.

Howard Pyle, a chronicle by Charles D. Abbott, with an introduction by N. C. Wyeth and many illustrations from Howard Pyle's works. New York, London: Harper, 1925.

Agosta, Lucien L.

Howard Pyle. (Twayne's United States authors series, 514) Boston: Twayne, 1987.

Bud Plant Illustrated Books.

"Howard Pyle: Catalog 20." Palo Alto, CA 94306-2629.

Delaware Art Museum.

Wondrous Strange: The Wyeth Tradition. By Howard Pyle, N.C. Wyeth, Andrew Wyeth, James Wyeth. Bulfinch Press, 1998. Published in conjunction with a major traveling exhibition, running from June 1998 through February 1999. 130 color illustrations.

Hyland, Douglas K. S.

Howard Pyle and the Wyeths: four generations of American imagination, with an essay by Howard P. Brokaw. [Memphis, Tenn.]: Memphis Brooks Museum of Art, 1983.

Jaffee, Irma P.

"N.C. Wyeth." Grolier, 1993.

Jersey City Museum.

Heroes in the fight for beauty: the muralists of the Hudson County Court House. Jersey City, N.J.: Jersey City Museum, © 1986.

McClanathan, Richard.

The Brandywine Heritage: Howard Pyle, N. C. Wyeth, Andrew Wyeth, James Wyeth. Chadds Ford, Pa.: Brandywine River Museum; distributed by New York Graphic Society, Greenwich, CT, [1971]. Out of print, Dec. 1998.

Michaelis, David.

N.C. Wyeth: A Biography (Knopf, 1998). Early chapters deal extensively with Wyeth's tutelage under Howard Pyle in Wilmington.

Moen, Margaret.

Six paintings in Minnesota's Capitol building vividly re-create the young state's Civil War service. N.p.: n.d.

Morse, Willard Samuel, comp.

Howard Pyle: a record of his illustrations and writings, compiled by Willard S. Morse and Gertrude Brinckle. Wilmington: Wilmington Society of the Fine Arts, 1921. Detroit: Singing Tree Press, 1969.

Nesbitt, Elizabeth.

Howard Pyle. New York: H. Z. Walck, 1966.

Patterson, Ruth G.

The influence of Howard Pyle on American illustration. Rochester, N. Y.: University of Rochester Press for the Association of College and Reference Libraries, 1955. [Thesis (M.S. in L.S.)--Western Reserve University.]

Pitz, Henry Clarence.

The Brandywine Tradition., Illustrated with 16 color and 32 black and white plates. Boston: Houghton Mifflin, 1969 [© 1968].

Pitz, Henry Clarence.

Howard Pyle: writer, illustrator, founder of the Brandywine school. New York: C. N. Potter, distributed by Crown Publishers, [1975].

Pyle, Howard.

Howard Pyle. Introd. by Rowland Elzea. 1st U.S. ed. New York: Scribner, 1975.




Links:

Art Cyclopedia.

Howard Pyle [American Golden Age Illustrator, 1853-1911]

Biography of Pyle (Illustration House).

Bud Plant Illustrated Books.

H. Pyle. (illustrated appreciation)

The Brandywine Conservancy.

Brandywine River Museum, Chadds Ford, PA (Pyle, N.C. Wyeth & other American illustrators).

Delaware Art Museum.

Digel, Carol.

Felix Octavius Carr Darley (1821-1888) "Victorian America's most famous illustrator." Precursor of Howard Pyle.

Ragnarock Press.

Howard Pyle Page, pictures and some of his type fonts.

McWilliams, Barry and Batsy Bybell.

Howard Pyle - A story Artist: Stories from Twilight Land - An Introduction. (Illus.; biographic sketch and appreciation; ten stories by Pyle; links and resources.)

University of Rochester. Library.

The Camelot Project: Artists: P.




Illus: Pyle, Howard (1853-1911), "Sir Gawaine the Son of Lot, King of Orkney"
from: The Story of King Arthur and His Knights. New York: Scribner's, 1903.
Used solely for educational purposes.
E.A. Oliver (1872-1937): Philadelphia artist
Brother Richard Oliver OSB MA

Comments questions or suggestions?
Write.





Created 950308; rev. 27.mar.2000 / Hypertext, presentation and bibliography © Copyright 1995-2016 by Richard Oliver OSB, MN 56321 / www.richoliver.us/eao/pyle.html