E.A. Oliver, "Edison, PA, and Neshaminy Creek." Watercolor (12 x 16 in.) © 2000 by R. Oliver OSB

Ellis Augustus Oliver
(1872-1937)

Philadelphia Artist, Part Two


By Richard Oliver, OSB MA
The Philadelphia Art Scene
Despite his later reluctance to engage actively in the Philadelphia art scene, E.A. Oliver participated in several of the annual watercolor exhibitions at the Pennsylvania Academy of the Fine Arts. His name appears in the index in the Academy's archives for the watercolor exhibition catalogs for 1914, 1917 and 1920. *

EAO. "Summer Stream," pastel, ca. 1918?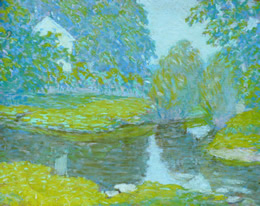 Among the "Thirteen Watercolors" that have been digitalized, three of them, "In the Shadow," "Mid Summer Day" and Spring Points have labels from the PAFA/PWCC Sixteenth Exhibition in 1918. The unnamed pastel at the right, Spring Points, Autumn Foliage and Autumn Impressions betray Grandfather's passing interest in the then "new" styles of pointillism and impressionism. E.A. Oliver assigned the titles in quotation marks; usually he neither titled nor signed his non-commercial art work.
Contemporaries
Some work of the apostle of impressionism, Mary Cassatt (1844-1926), was included in the 1917 exhibition, and the catalog contains a Foreword to "War Drawings" by Joseph Pennell (1857-1926) written by H. G. Wells (1866-1946). "Mid Summer Day" and other works in the family's collection echo Pennell's use of industrial scenes as subjects for his "War Drawings." Some other contemporary artists appearing in the Academy's file are William A. Hofstetter (1883-1970), family friend, Philadelphia artist and teacher, and N.C. Wyeth (1882-1945) renowned book illustrator and father of Andrew Wyeth (1917-).
The "Artist File" maintained at the Free Library of Philadelphia on Logan Circle records Grandfather's participation in The Art Club of Philadelphia's Nineteenth Annual Exhibition of Oil Paintings and Sculpture (November 15 - December 20, 1906). Ellis A. Oliver is listed twice in the catalog: #96: "The Pool" and #155: "In the Valley." The prominent book illustrator of Moby Dick and many other works, Rockwell Kent (1882-1971), appears on the opposite page, #171: "An Ocean Headland." In general, however, little evidence documents E.A. Oliver's participation in Philadelphia's vibrant artistic community.

Death of the Artist
Sensitive to the manifest threats to democracy and the ominous possibility of another world war, Grandfather, in his illness, abandoned -- unfinished and still wet at the time of his death -- his vaguely allegorical oil painting of "Independence Hall" (given by Kathryn M. Oliver, his widow, to her grandson, Thomas Oliver).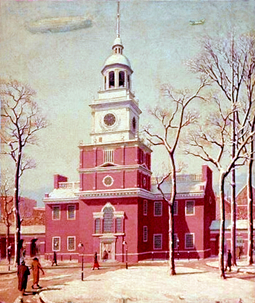 Within three weeks of the wedding (2 June 1937) of John Herbert (1911-1985), his youngest son, at St. Richard's Parish to Anne Josephine G. (1915-1976), Ellis Augustus Oliver died of a coronary occlusion at 63 on 19 June 1937 before the birth of his grandson, John H. Jr. (1938-) and his brothers: me, Richard (1945-), Thomas (1952-) and Michael (1956-).

Perhaps Grandfather's lack of enthusiasm for Howard Pyle's Swedenborgian mysticism delayed his conversion to the Roman Catholic Church until sometime before or during his final illness. His obsequies, nonetheless, included a solemn, requiem Mass sung by his relative, Father Clayton French, at the family's tiny but superb, neo-Gothic parish church of St. James the Greater, 3728 Chestnut Street, built 1881-87.

Although the bulk of Grandfather's oeuvres, including several fine portraits -- an art form for which he was especially celebrated -- remains in the possession of his extended family, some of his more accomplished works enhance private collections. Ellis A. Oliver is buried with his wife and family in Holy Cross Cemetery (Lot 01.10.70), Yeadon, PA.

* PAFA annual W.C. exhibitions: for 1914 (#195: "Autumn"); 1917 (#506: "A Quiet Corner," #514:"Summer Morning," #741: "Gray Day"); and 1920 (#293: "Autumn Sunlight," #296: "Summer Day," #319: "Summer Sunlight," and #553: "Autumn Gray.")


Ellis A. Oliver (1872-1937): Introduction
Thirteen Watercolors and
Three Pastels

December 1994; family photographs and new links added 22 March 1996; text
substantially expanded on 17 May 1998; photo of Ind. Hall, 5 May 2000; links updated 2004 .

Brother Richard OSB MA
Saint John's Abbey
2900 Abbey Plaza
Collegeville, MN 56321-2015

Comments, questions, or suggestions? Write to me.

Rev. 2 Jan. 2013 / © Copyright 1994-2016 by Richard Oliver OSB / www.richoliver.us/eao/eaotxt2.html