Richard Oliver OSB
Saint John's Abbey
Collegeville
MN 56321 USA

Easter 1992
Dear Friends,
Having been in Germany since March 1987, I am happy to report to relatives and friends that the Baltics are free, the Soviet Union has dissolved, the Berlin Wall no longer exists, Germany is united, Iraq has been punished and I returned to Collegeville on 2 January 1992. There's only so much one Brother can do for a continent. I leave the Balkans to my successor. What follows is a summary of the last five years.
1987

I arrived in (West) Germany 30 March 1987 to begin work as the European Field Director for the Hill Monastic Manuscript Library, a subdivision of Saint John's Abbey and University. Since 1965 the Hill library has been microfilming complete collections of hand-written manuscripts produced before 1600. The collection now numbers over 75,000 volumes and the Hill Library has attained international recognition as a center for the study of medieval and renaissance sources. Most of the texts and catalogs I worked with were in Latin, but some later manuscripts were in early German. Oriental manuscripts where available were filmed regardless of date.

Back to School
I spent a month with mostly younger students, at the Goethe Institut in Boppard am Rhein between Koblenz and Mainz near die Lorelei refreshing the German I had learned in Philadelphia at West Catholic High School and La Salle University. Although over twenty years had elapsed since my last classroom German, when I eventually got to the point of dreaming in German, making conversation on the telephone and comprehending news broadcasts, I began to feel quite competent and confident.
Down to Work
My first filming location was in Tübingen, a university town south of

Stuttgart (Germany's Detroit) in the country's wealthiest state, Baden-Württenburg. The Schwabians who live there are notoriously thrifty, and the invention of copper wire is ascribed to the fact of a Scot and a Schwab grabbing at once for a dropped penny. I lived in one of Tübingen's oldest streets, Münzgasse (coin alley), named after the Tübinger Pfennig, first minted in 1150 and widely used as a standard for size and weight. My room, high in an early 17th c. building, overlooked the Neckar River and the old university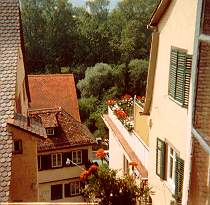 buildings where Philip Melanchton, Johannes Kepler, Friedrich Hölderlin, Georg Wilhelm Friedrich Hegel and Friedrich Wilhelm Schelling, among others, had been students at Tübingen University.
Tübingen University, founded in 1477, is still known as a center for theological education -- one in six students studies theology, and three theological faculties exist: Catholic, Protestant, and Ecumenical (the latter of which was created as the solution to the Fr. Hans Küng problem). The department of Oriental Studies is also first rate. Dr. Gabriele Winkler, an expert in Armenian and other early Christian languages and a member of Saint John's University's faculty, recently vacated the Chair of Liturgical Science at Tübingen. She is the first woman to join the Catholic theological faculty.
Father Jonathan Fischer OSB returned to Minnesota in May, and I assumed his title: Field Director for European Operations. Our photographer, Herr Karl-Heinz Badde, with HMML since 1983, eased the transition.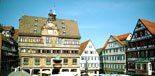 The June chill of my cell in the Münzegasse kept a room oil furnace going to combat damp rising up the thick, but porous walls of the 16th century building that sheltered me and Sister Columba (dove/Taube), a mobile, social worker/religious in a predominantly Protestant city; Dominik, the German student/neighbor reading British literature; and the long-resident, but never seen, Korean law student in the attic. The filming at the university library was completed in September 1987. Deo gratias! My best memory of Tübingen is my first taste of Weizen, a wheat beer popular locally. [Live Web Cam]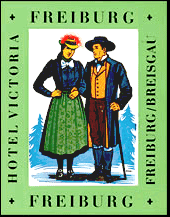 New Location
From Tübingen our team moved to Freiburg im Breisgau, a lovely, sunny city in the southwestern corner of Germany near the Black Forest and the Swiss and French borders. I lived for a year in the Collegium Borromaeum, a residence for undergraduates studying for the priesthood, located directly behind the Freiburger Münster, or cathedral. Das Münster is the only major church in Germany completed during the Middle Ages. It survived, some say miraculously, both German -- the Nazis thought Freiburg was Colmar -- and Allied bombing that leveled almost every building in the church's vicinity.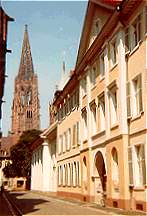 In Freiburg I met up with two of our students from Saint John's: Leo Riegert, a Rotary study-abroad scholarship winner and former prep; and Rick Theis, an alumnus who was playing for the city of Freiburg's basketball team. Student life in Freiburg was less claustral than Tübingen, and better integrated into the life of a city whose charms drew tourists and shoppers at all seasons.
Traveling Monks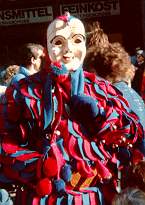 Fathers Hilary Thimmesh OSB, as president of the university, Michael Naughton OSB, director of Liturgical Press, Thomas Hallsten OSB and Dr. Julian Plante, Executive Director of HMML, all visited Freiburg while I was there. Fr. Michael arrived for the first days of Fastnet, the annual celebrations before the start of Lent. Fastnet, a splendid time for fools, is organized by the descendants of the medieval Guilds. All week Die Zuenfte host Sitzungen, formal dinners with musical entertainment and quasi-military ceremonies performed by participants costumed in eighteenth century finery. Public celebrations include balls, dances, ceremonies, and the great parade (Umzüg) through the city comprised of participants wearing the carnival gear of their local Schwarzwald mountain villages. In lieu of national costume I followed the advice of a Freiburger matron and wore some form of black-tie for about a week.
Austrian Christmas

At Christmas I accepted an invitation from Dom Emmanuel OSB, a monk of Seckau Abbey, Austria, whom I had met during my internship with David Rogers at the Bodleian Library, Oxford, in 1980. I took the train to Klagenfurt where he served as chaplain to the University. From there we went to Arriach, a tiny village of Catholics in that section of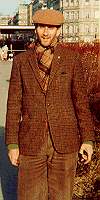 the Austrian Alps to which Joseph II had banished the Protestants. Here, in this pocket of Ultramontanism, I was honored to serve as an acolyte for the midnight and Christmas-day liturgies in the tiny, unheated, rural chapel.
The celebrant and I wore all the clothes we had with us under our liturgical vestments. I was surprised to notice after the Midnight Mass that the graves in the cemetery had been decorated and lighted with candles by family members according to the Germanic custom. Later we dined with Emmanuel's cousin, Gräfin C., and her family at Villach. The countess knew of our Father Paul Marx OSB from his Human Life International mission and publications.
"Mensch fängt mit Graf an," I learned in conversation elsewhere, is a saying in some of Austria's sad and silly circles. The countess was far removed from that parochial and pernicious shibboleth.
We went on to Vienna, and my host found a room for me at the University. Dom Emmanuel stayed in the city for a family wedding, and I made the long train ride west to Salzburg where I stayed with Father Mark Thamert OSB, leader, at the time, of our university's study-abroad program in Salzburg. There we met the parents' group that was traveling with our preps enrolled in the exchange program at Melk Abbey. New Year's Eve (Silvester) I celebrated in Munich; the custom at midnight is to dance a Viennese waltz.
1987 * 1988 * 1989 * 1990 * 1991-92 * post-1992

Rev. 28 May 2009 / www.richoliver.us/germany/