Richard Oliver OSB
Saint John's Abbey
Collegeville, MN 56321

Easter 1992
My European Report (continued)
Besides filming the university library's collection in Freiburg, we also included those of the city archive, a museum of medieval art, the diocesan archive, and the major and minor seminaries. Sankt Peter im Schwarzwald, the major seminary, had been founded as a Benedictine abbey in 1093, and the library, completed 1750-52, is a gem of the Rococo Style.

From 1987 to 1989 I flew several times to Lisbon. When the Portuguese applauded a safe landing, I often imagined the applause of a 1943 movie audience

for Rick, Victor Laszlo, and Ilse Lund. For them a plane ride from Casablanca to Lisbon was invested with compelling allure. Dra. Isabel do Carmo Andrade and Sr. Filipe Franco comprised the Portuguese team that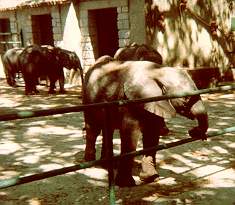 filmed, in the midst of significant political change and unpredicted bureaucratic and technical complexities, at the national library, the Gulbenkian Museum and the royal Ajuda palace.
During one of my visits to Portugal, it seemed as if all of Lisbon were at the Zoo to view a herd of baby elephants en route to a destination elsewhere. They certainly were appealing to all.
During a visit in November, walking back to HMML's regularly used hotel, the Britania, I came across and participated in the national Armistice Day ceremony of wreath-laying at the military memorial in the Avenida da Liberdade. Portugal's participation in World War I as England's oldest ally resulted in 8,145 casualties. Another trip provided occasion for an InterCity train ride to Coimbra, the ancient university town beloved by the Portuguese, where students in subfusc still wear, or artfully roll up and drape over one shoulder, academic gowns daily in session.
Paris

I made a brief weekend visit to Paris in April of 1988 for the opening of Father Jerome Tupa's OSB art exhibit sponsored by the Vatican delegation at UNESCO's Galerie des Pas Perdus. Frustrated by a train strike in 1979, I finally managed to see, but not encompass, the incredible "scale" of Versailles.

I was also able to tour the recently opened Musée d'Orsay, a superb and diverse collection of French art from 1848 to 1914 housed in a wondrously renovated former train station on the southern bank of the Seine.
In the Alps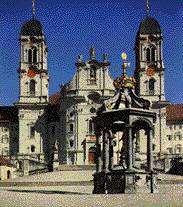 I arrived at Einsiedeln Abbey on 22 September to sign a contract to film their important collection of monastic manuscripts. The monastery attracts numerous pilgrims from all over Switzerland and the globe, and the Church serves much like a national shrine. I can't say I enjoyed my perhaps too brief visit. For one thing, thinking it would be cold in the Alps, I had seriously overdressed. The other thing was that the canton of Schwyz has the most impenetrable dialect. This did little to disabuse me of Switzerland's reputation for xenophobia. If Germany is clean and Austria dainty, Switzerland is sterilized.
Farewell, Frieburg!
More sunny days than anywhere else in Germany, a mild winter and a glorious autumn made it difficult to leave Freiburg and the Black Forest in November 1988 for Mainz, the birthplace of printing, and our next filming site den Rhein entlang

Christmas and New Year's Eve I celebrated with the monastic community at Collegeville. No waltzing. =:-(





1987 * 1988 * 1989 * 1990 * 1991-92





Rev. 27 May 2009 / www.richoliver.us/germany/germany1.html